---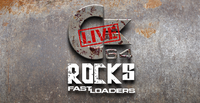 **
(2 June 2023)
FASTLOADERS IN UK, CONCERT STILL GOING AHEAD. TRAINS NOT AS BAD AS FEARED, AND UNDERGROUND STILL RUNNING.
Please allow much extra time for travel to the venue, and keep an eye on announcements that might further affect your travel.
C64 Rocks Release Party LIVE in London!
The first sighting of the physical release of "C64 Rocks": Kickstarter backers will be able to pick up their copy from the concert!
June 2nd 2023, The Underworld, Camden, UK
Doors open 18:00, Concert is 20:00ish to 22:00ish (all times BST).
Regular Ticket: £28.99, VIP Ticket £49.99 (attend soundcheck, and get good vibes from supporting the concert). No stupid extra booking fees! (ticket delivered in a downloadable PDF: although it's one PDF for the entire order - worry not, the ticket is stamped with the price you paid... and the venue will also have a list in case of queries. 
FastLoaders are celebrating their release of "C64 Rocks", a triple album with stunning rock renditions of classic Commodore 64 tracks! Coming from Bergen, Norway to The Underworld club in Camden, home of their iconic 2016 concert with the much-missed Ben Daglish, they are back with an extended catalogue of C64 classics.
So If you missed it last time, now is your chance to witness an amazing live performance of classics such as; "The Last Ninja", "Commando", "Monty on the Run" as well as tracks from the new "C64 Rocks" album.
If you missed all the other Fastloaders concerts: treat yourself... and don't miss this one!! C64 Concerts come along only rarely!
 Here's what they did in 2019 with Rob Hubbard in Bergen...
Promoters: BitNinja, Wessels gate 2, Bergen 5006, Norway