---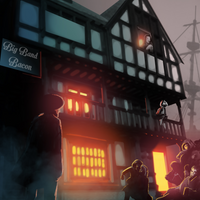 Uncle and the Bacon (formerly Rune-Bertils) is a legend of C64 remixing, specialising in big-band remixes that make you dance. Or at least, think about dancing.
Here he produced a wonderful album for the Back in Time Symphonic Collection Kickstarter.
Click on One Man and his Droid for a sample, but also check out his YouTube channel.

The Wastelands (From "The Last Ninja"™) - Ben Daglish
Warhawk - Rob Hubbard/John Keating
Bubble Bobble - 

Tadashi Kimijima

Druid 2 - Enlightenment - David Hanlon
Rambo Loader - Martin Galway
One Man and his Droid - Rob Hubbard
Baby of Can Guru - Chris Huelsbeck
Comic Bakery - Martin Galway
Love Theme (from "Defender of the Crown") - Jim Cuomo
Yie-Ar Kung Fu (subs 18-17-12) - Miki Higashino