---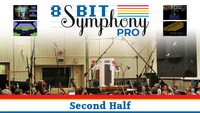 Below is a show-reel from 8-Bit Symphony Pro: First Half - expect similar for this Blu-ray... but maybe even better!
Expected September 2021 - this is a pre-order.
"They sound absolutely *magnificent*; richly atmospheric and fantastically cinematic, they evoke mental images of blockbuster movies based on the relevant games. I spent all morning listening to them before heading out to work, and they put me in quite the cheeriest mood!" - Matthew Smith, Amiga Power, about 8-Bit Symphony Pro 1.

The 80-piece Czech Studio Orchestra conducted by Robin Tait play some of the most iconic and epic 8-bit microcomputer tunes ever - again!
Everyone who loves 8-bit microcomputers, video game music or light classical/film/TV soundtracks needs this in their life.
Limited edition 2 disc Blu-ray: first disc is "Prague 2021" with a live professional recording of the session, and second disc is "Just the Games" which is curated and themed game video in sync to the tracks - the videos we would play in concerts on a big screen.
Comes with downloadable ISOs for streaming and stereo MKVs.

Track listing will include: 
Nemesis the Warlock
Defender of the Crown
Thing on a Spring
Ghouls 'n' Ghosts
Master of Magic

Super Huey
Fist 2
Storm Warrior
Ark Pandora
Bump Set Spike
Dragon's Lair II
Times of Lore
The Last Ninja® - The Wilderness
Hunter Patrol
... and more!
 Here's a YouTube playlist of previews!